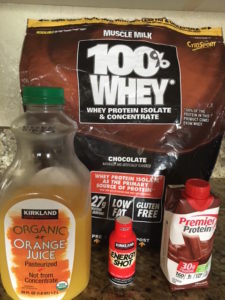 Sugar is America's No.1 addiction. Even when we're not consciously eating cane sugar, we're consuming things loaded with artificial sweeteners, high-fructose corn syrup (HFCS) and other sugar-like chemicals we can't readily identify on a food label.
So when I gave up sugar for Lent this year, the challenge was not only to stay away from the obvious – cookies, candy, cake, ice cream, chocolate, trail mix, energy bars – but also the many products infused with sugar and sugar impersonators.
Thankfully I long ago gave up soda and sports drinks. I've never consumed coffee. I rarely eat many of the foods that have sugar or related sweeteners injected such as ketchup, baked beans, salad dressings, crackers, bread, yogurt, and fruit juices.
In my mind, I made it through the 46 days of Lent without consuming sugar. It helped that I also gave up alcohol in a show of support for my wife, who avoided booze for Lent. By eliminating alcohol, I was less likely to give into the temptation of eating poorly while drinking.
Still, a nutritionist would note that I didn't avoid sugar altogether. My morning green smoothie, which consists of kale, spinach, chard, and avocado, also contains half of a frozen banana and one ounce of orange juice. There are natural sugars in fruit, so that's not too bad. But I also throw in half a scoop of whey protein. There's some legitimate artificial sweetener in that. Not much, but a little.
Each day I also consume one or two protein drinks. These prepackaged, 11-ounce beverages contain just 1 gram of sugar per serving (along with 160 calories) in the form of the artificial sweetener Sucralose. They're also vanilla or chocolate flavored, which accounts for the artificial flavoring and also seems to violate the spirit of the Lenten vow. I drink them post-workout or as a mid-afternoon snack.
I also drink an occasional "Energy Shot," a 5-Hour knockoff produced by Costco under its Kirkland Signature product line. I'm not proud of this, but I don't drink coffee, tea, or soda, so this provides the caffeine I occasionally need. These energy shots also contain Sucralose.
So did I give up sugar? Maybe, maybe not. In his recent book The Case Against Sugar, author Gary Taubes notes that it's virtually impossible to avoid sugar and artificial sugar in the modern western diet. I read the book during Lent and if I hadn't already given up sugar, it would have scared me into doing so.
Taubes, a decorated investigative reporter, shows how the sugar industry's lobbying efforts led researchers and journalists to focus for decades on dietary fat as the cause of America's health problems when sugar is the more likely culprit for the increase in obesity and diabetes, along with heart disease, cancer – even dementia and Alzheimer's.
Yesterday, Easter Sunday, I was able to eat sweets for the first time since February. I ate some candy and a chocolate muffin. My wife and I polished off a bottle of wine. None of it tasted as good as I expected, so perhaps I broke my sugar addiction.
I lost seven pounds during Lent, which is significant given that I ate clean and drank little alcohol already. Nor did I increase my activity level during Lent.
Maybe Taubes is right. The answer to what ails us might be as easy as giving up sugar.