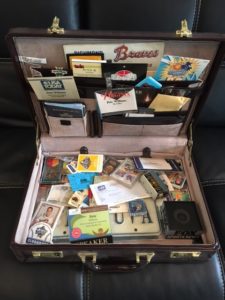 Forrest Gump knew how to live lean. The guy didn't own a car, preferring to run everywhere, and kept himself in top condition. He had a laser focus in all of his endeavors, from football to the military to Ping-Pong to entrepreneurial endeavors. Even after becoming a multimillionaire, he lived in his childhood home, wore the same clothes, and had the same small circle of friends, mostly just Jenny and Lt. Dan.
Yep, ol' Forrest could teach us a few things about living lean. But my favorite Gump lesson comes from his suitcase, the one he held while sitting on a park bench telling his life story. The suitcase, being of the old-school, travel-light variety, could hold only a few items, but it was a sufficient sampling of things that defined Forest's life, along with some useful stuff like socks and a toothbrush.
There was a Bubba Gump shrimp ball cap and an issue of Forbes magazine showing him and Lt. Dan on the cover, the magazine he pulled out to prove that he was, indeed, the noted co-founder of the Bubba Gump Shrimp Co. There was a well-worn Ping-Pong paddle, the one he actually used, not the one he endorsed for the $25,000 check he used to launch the shrimp company. There was a copy of Curious George, his favorite book. Perhaps the briefcase also contained his Congressional Medal of Honor and maybe a ring or certificate from his All-America football career at the University of Alabama.
Forrest was a man of many accomplishments and yet it all fit into one modest suitcase. Most of us haven't achieved a high level of success in one field, let alone the military, sports, and entrepreneurial endeavors. But we hoard everything: old report cards, ID photos, childhood awards, trophies, certificates, collectibles, sports equipment, and any document or news clipping that mentions our name. Those of us who write for a living are even worse as we tend to save anything we've written, co-authored or been quoted in.
It's as if we believe that one day someone will create The Museum of Us and will want this treasure trove of our stuff to display to the public. Guess what? There will be no Museum of Us.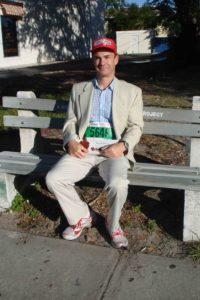 That's not to say, however, that we shouldn't think like curators. The greatest museums display only a fraction of their vast holdings, the most noteworthy pieces. Sometimes artifacts are rotated in seasonally, but for the most part a museum's holdings are warehoused and stored for research and preservation.
Which is great for items of historical significance. But few of us have such things. That's why we need to think like Forrest Gump, keeping only what can fit in a small suitcase, as if we were traveling for a journey and preparing for the future. As I've purged my possessions in recent years, I've created my own Forrest Gump briefcase. It started with an actual briefcase I received as a college graduation gift way back in 1991. Briefcases were out of style even then and I never used it for anything other than storage. As I began the purge in 2013, I started with the contents of the briefcase and began curating.
When I sold my sports memorabilia collection – tens of thousands of baseball cards, autographs, and odds and ends – I kept a few items for the briefcase. I purged my stockpile of hundreds of press passes and media credentials, keeping only a few from the most memorable events I covered. I shredded more than a hundred IDs, frequent flyer/hotel cards (TWA, anyone?), and other cards, keeping just three or four from jobs and gigs that defined my career. I've written a number of books, but I placed only a copy of the first one in the briefcase, along with advertising postcards from several of the others. (The others, of course, could fit on a Kindle or other reading device.) I added a thin Sesame Street book I read to our sons hundreds of times – Don't Forget the Oatmeal – my equivalent of Curious George. I had a collection of 125 Matchbox cars from my childhood that my guys didn't want. So I sold the collection, keeping my favorite car for the briefcase.
I'm gradually moving all photos and keepsake papers into digital files and I'll eventually keep a hard drive in the Forrest Gump briefcase. Some day I hope one of my sons will keep the briefcase. He won't have to go through tons of my stuff upon my passing. I'll have curated everything for them in one small briefcase.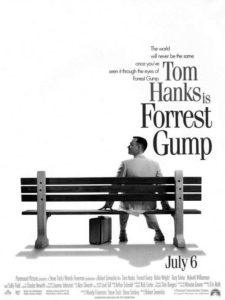 I could have gone with a suitcase or a steamer trunk but that would not be living lean. Choosing a small suitcase – or briefcase – forces you to keep only what you'll carry on the journey and nothing more. If you add to it, you must take something out. That's why it's best to be constantly curating.
Should the big hurricane hit Central Florida, I'll grab the Forrest Gump briefcase first. In theory, it should be all I need. With the briefcase, I'm forced to think in terms of traveling on a journey, both a short trip and a journey through life. What do we really need to travel light, tell our story, and to live lean? We want to bring pleasant memories that are literally light, not heavy, stressful stuff that weighs us down. We want to bring only those things essential to the trip that celebrate our past and contribute to the future.