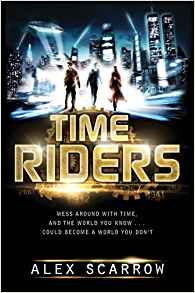 As an author and journalist I often wonder if I read enough books. After all, the only way to stay informed and improve as a writer is by reading.
Not since the days of high school summer reading lists have I kept track of how many books I read. These days I probably read 20 books a year, maybe 25, though I can't say for sure. Do I count the ones I skim for work-related purposes? How about fitness books? Do they count? (I hope so, as I'm an author of fitness books.)
Both Bill Clinton and George W. Bush supposedly averaged a book a week while in the White House and while that's hard to believe given their busy schedules, it seems possible. And if they could do it, so could I.
So I set a 2017 goal of reading 52 books, mostly non-fiction, and no fitness books counted toward the total. No skimming either, so if a book didn't grab my attention quickly, it was time to move to the next one.
I reached my goal in November and finished the year with 61, including a dozen fiction books. I had a Roger Maris reading year, though 61 books seemed like a Ruthian number to me a year ago. Now I'm aiming for 100 in 2018.
Here's what I learned from those 61 books and the process of reading them: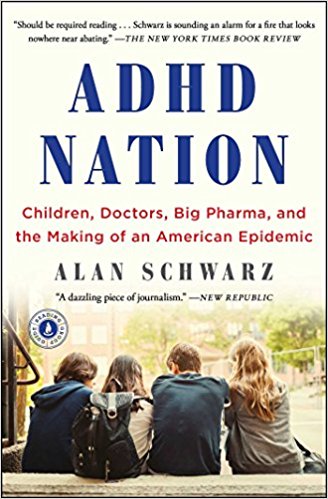 NOBODY READS BOOKS ANYMORE, AT LEAST NOT IN PUBLIC: I eat a lot at Chipotle, which means I stand in line a lot at Chipotle. This year I probably read the equivalent of one or two books while waiting to order a burrito bowl.
I also read books while eating at Chipotle, watching my sons during basketball and swimming practices, waiting for planes, traveling on planes, and sitting in medical offices for my appointments and those of the boys.
Usually I was the only one reading a book. Most people stared at their phones or looked at televisions, which now are mandatory in any area where people might have to wait. At one point I took a son to get his driver's license permit at the DMV, the one place guaranteed to require a long wait. And yet among the hundred or so people enduring the hour-plus ordeal, I was the only one reading a book. (One man appeared to be reading on a Kindle.)
How unusual has reading a book in public become? While I perused a book at a swim meet, where parents must hang around for five hours to see kids swim five minutes, an older woman approached and asked if she could take my photo. She wanted to prove to her grandson that, yes, people still read books.
READING BOOKS IS DONE IN SIPS, NOT GULPS: So says Stephen King in his helpful book On Writing, which I read every few years, though not in 2017. King, who when not writing horror novels is fond of reading books at baseball games in between innings and during pitching changes, points out that everyone has many 10-minute opportunities during the day when forced to wait. If you wait for an hour-long opportunity to read, it's rarely going to happen. But I found numerous 10-minute (or longer) windows while waiting to pick up the kids and especially in those annoying periods at the doctor's office when they get your hopes up by bringing you from the waiting room to the examination room only to make you wait again. In 2017, I read the equivalent of five books in the waiting/examination rooms of doctors, dentists, and orthodontists.
READING BOOKS IS CHEAP: As someone who makes much of my living writing books, I'm not proud of this. But 59 of the 61 books I read came from the library; the other two were not available anywhere but online. Not only is this inexpensive but it kept me from having to find somewhere to put 59 books when I was finished with them. (In my defense, I left Amazon reviews for a number of them.) I still marvel that I can reserve a book available anywhere in my county's public library system and have it delivered to my local branch, usually within days. Sure, I might have to wait weeks for a newer bestseller, but when you've got a queue of books to read – a key to maintaining such a pace, by the way – that's no problem.
READING BOOKS IMPROVES SLEEP: Bedrooms are for two things, three if you count reading. Spending your last waking half hour reading has been linked to improved sleep, especially if it's part of a consistent ritual. Better to go with non-fiction as opposed to a thriller and better to go with a physical book over an electronic reader, which provides the same sleep-depriving stimulation as a TV screen.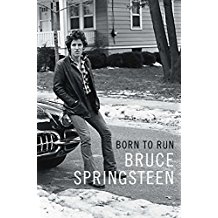 CARRYING A BOOK IS BADASS: As a reporter I've long believed that if you carry a clipboard or notebook and walk with purpose, people assume you're supposed to be there. This has gotten me into places where I shouldn't have been and, on occasion, thrown out of such places. In a world in which people shuffle along like zombies, hunched over phones, try walking with purpose and carrying a book. People will get the hell out of your way and treat you like someone important.
BOOKS ARE THE BEST ENTERTAINMENT: I've cut my television viewing and social media use drastically in recent years, but reading more books made this even more pronounced. Good books raise the bar for entertainment. I found little I wanted to watch on television and, perhaps not coincidentally, saw only two movies in the theaters: Logan and The Last Jedi.
BOOKS SET A GOOD EXAMPLE: Want your kids to read more? Put down the phone and pick up some books, including ones the kids will read. There are many terrific young adult sagas out there and this year the boys and I read the four-book Quarantine series by Lex Thomas, along with the first four books of Alex Scarrow's clever Time Riders series, and the latest in Lisa McMahon's The Unwanteds saga. We also read the latest books by Carl Hiaasen and Tim Dorsey, along with Noah's Castle, a book I thought of from childhood and one of the two I had to purchase.
As far as my solo reading, much of it fell into four categories: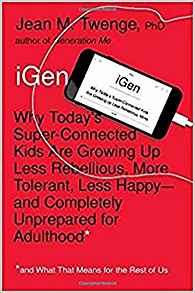 CHILD REARING: The modern era of helicopter parenting of micromanaged, overscheduled kids that spend most of their free time staring at screens frustrates the hell out of me. Fortunately, there are many authors to help, including Leonard Sax (Boys Adrift), Kay Hymowitz (Manning Up), Benjamin Sasse (The Vanishing American Adult), my pal Alan Schwarz (ADHD Nation), and the collective works of Jean Twenge (Generation Me, The Narcissism Epidemic, and iGen). I didn't read Amy Chua's Battle Hymn of the Tiger Mother until this year. Some view her as an extremist. I found her parenting style generally reasonable in a screen-addicted world.
FINANCIAL/MINIMALISM: This blog is about lean living, after all. So I read Gary Taubes's thought-provoking The Case Against Sugar, Lauren Weber's In Cheap We Trust, Trading Up by Michael Silverstein & Neil Fiske, and Live Your Life, Not Theirs by Rachel Cruze. I re-read some financial classics, including George Clason's The Richest Man in Babylon and Thomas Stanley's The Millionaire Mind and Stop Acting Rich. Angela Duckworth's Grit, which could be placed in the child rearing section, is one of those oft-quoted, trendy bestsellers you wouldn't think would live up to the hype, but it did. Ditto for Steven Kotler's The Rise of Superman, along with Stealing Fire, which he wrote with Jamie Wheal. I read Joshua Becker's The More of Less during the last week of 2016, so it didn't count for this list, but the book shows why he's one of the leading voices in the minimalist movement.
BIOGRAPHY/AUTOBIOGRAPHY: I caught up on some of these released in recent years. Andre Agassi's Open was powerful and benefited from ghostwriter J.R. Moehringer, whose own memoir The Tender Bar I read for the first time. I can't believe Bruce Springsteen didn't use a ghostwriter for Born to Run. The Boss's writing chops clearly aren't limited to songwriting. Also loved the memoirs of Joe Buck (Lucky Bastard), Tina Fey (Bossypants) and J.D. Vance (Hillbilly Elegy).
Ron Miscavige's Ruthless, a look at his many years in Scientology as the father of the longtime head of the organization, left me feeling he held a lot back. Such is the power of Scientology, even after people leave.
Steve Rushin might be the most skilled wordsmith alive. Loved his memoir Sting-Ray Afternoons, along with previous books Road Swing, The 34-Ton Bat, and The Pint Man. Mark Krigel's portrayal of Pete Maravich (Pistol) was impressive in detail. I read half of Susan Lacke's fast-paced, triathlon-themed Life's Too Good to Go So F*cking Slow during my 90-minute wait at the DMV and the other half as soon as I got home.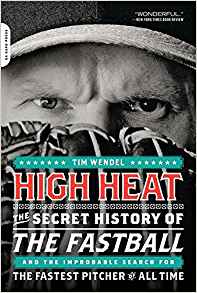 SPORTS: I'm no longer a full-time sportswriter, but I still follow sports like the lifelong fan I am. I got on a baseball kick in July around the All-Star Game, reading Rushin's books, along with Tom Verducci's thorough breakdown of the 2016 Cubs (The Cubs Way), Jonah Keri's book on the Tampa Bay Rays (The Extra 2 Percent), and my former USA Today colleague Tim Wendel's look at our obsession with the fastball (High Heat). I read plenty of basketball, too, including Jack McCallum's Golden Days, George Dohrmann's look at AAU basketball (Play Their Hearts Out) and Keith O'Brien's Outside Shot. I didn't think I'd like Bill Simmons's 700-page The Book of Basketball, my longest read of the year, but since he and I are the same age I found myself re-living much of my basketball fan experiences of the last 40 years.
I'm a fan of sports investigative reporting and few do it better than Jeff Benedict and Armen Keteyian (The System). Between that book and Mike McIntyre's takedown of Florida State's football program (Champions Way) I wonder how any of us justify sending our kids to colleges where many football coaches – and some assistant football coaches – make more than $1 million annually. I also love books where authors insert themselves into a subculture such as Daniel Barbarisi's rollicking foray into pro daily fantasy sports (Dueling with Kings).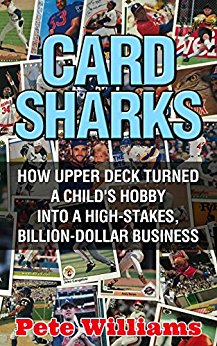 The strangest déjà vu reading experience of the year was Card Sharks, my investigative look at the Upper Deck trading card company, which I wrote in 1993-94 and had not read cover to cover in 20 years. I did so to correct a few typos for the e-book edition, released in June.
Some books don't fit into any of those four categories. Here's the list of 61, in order read. My goal for 2018 is to read 100. If you've read this far and have suggestions, please let me know.
Lassoing the Sun: A Year in America's National Parks – Mark Woods
Pistol – The Life of Pete Maravich – Mark Kriegel
Boys Adrift – Leonard Sax
The Unwanteds – Island of Dragons – Lisa McMahon
ADHD Nation – Alan Schwarz
Open – Andre Agassi
The Tender Bar – J.R. Moehringer
Make Your Kid a Money Genius – Beth Kobliner
Clownfish Blues – Tim Dorsey
The Upstarts – Brad Stone
Razor Girl – Carl Hiaasen
Dueling with Kings – Daniel Barbarisi
Lucky Bastard – Joe Buck
Live Your Life, Not Theirs – Rachel Cruz
The Case Against Sugar – Gary Taubes
Noah's Castle – John Rowe Townsend
Stealing Fire – Steven Kotler and Jamie Wheal
Born to Run – Bruce Springsteen
Play Their Hearts Out – George Dohrmann
Outside Shot – Keith O'Brien
Card Sharks – Pete Williams
The Rise of Superman – Steven Kotler
Quarantine: The Loners – Lex Thomas
Quarantine: The Saints – Lex Thomas
Quarantine: The Burnouts – Lex Thomas
Quarantine: The Giant – Lex Thomas
The Cubs Way – Tom Verducci
Road Swing – Steve Rushin
The 34-Ton Bat – Steve Rushin
The Extra 2 Percent – Jonah Keri
Grit – Angela Duckworth
The Pint Man – Steve Rushin
Ruthless – Ron Miscavige
Crazies to the Left of Me, Wimps to the Right – Bernard Goldberg
Generation Me – Jean Twenge
The Narcissism Epidemic – Jean Twenge
Time Riders – Alex Scarrow
Time Riders: Day of the Predator – Alex Scarrow
iGen – Jean Twenge
Hillbilly Elegy – J.D. Vance
Sting-Ray Afternoons – Steve Rushin
Time Riders: The Doomsday Code – Alex Scarrow
Battle Hymn of the Tiger Mother – Amy Chua
The Millionaire Mind – Thomas Stanley
The Vanishing American Adult – Benjamin Sasse
Our Kids: The American Dream in Crisis – Robert Putnam
Manning Up – Kay Hymowitz
Time Riders: The Eternal War – Alex Scarrow
High Heat – Tim Wendel
The Richest Man in Babylon – George Clason
Stop Acting Rich – Thomas Stanley
In Cheap We Trust – Lauren Weber
Champions Way – Mike McIntyre
Trading Up – Michael Silverstein & Neil Fiske
Parent's Guide to Youth Basketball – Kevin Cantwell & Pat Alacqua
Pain Free – Pete Egoscue
Golden Days – Jack McCallum
The Book of Basketball – Bill Simmons
The System – Jeff Benedict and Armen Keteyian
Bossypants – Tina Fey
Life's Too Short to Go So F*ckin' Slow – Susan Lacke